Goodbye to All That - A Review of 2020 by Director Marcus Maisey
Published by Sophie Fillmore on 2020 12 23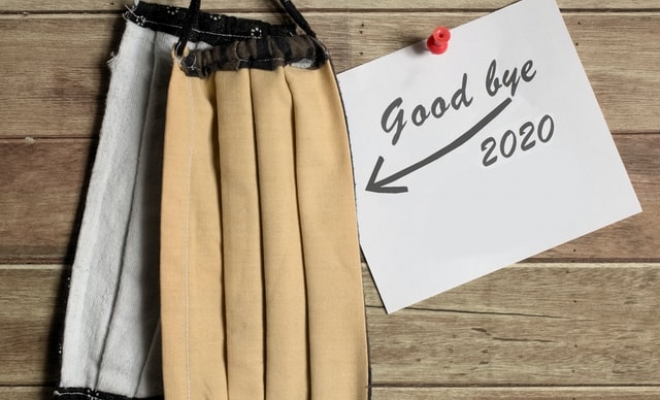 Well, where to begin? As I sit here in Tier 4 self-isolation, I wonder whether 2020 could have been any worse? Many people have lost their lives to Covid-19 and we shouldn't forget that this is the real tragedy of the year. The office has been closed to the team for more days that it's been open. I haven't seen several of the guys since March, holidays were cancelled, relatives remain unseen, Trump ranted, Brexit uncertainty, fishing quotas, lorry parks at Dover, and yet out of 2020 a kinder more compassionate society seems to have emerged. We've all clapped for the NHS, Sir Tom was knighted and footballers have campaigned to help the poorest children have full stomachs. Those who can, have donated to charities as money became less important than health.
In the depths of the stock market crash in March, world stock markets fell up to 30% in the space of a few weeks. They were worrying times, and those of an anxious disposition justifiably felt nervous – they were nervous times, even for the most experienced of investors. Economies were closed; borders were closed; pubs were closed; shops were closed, as governments tried to prevent the spread of this awful virus. But cometh the hour, cometh the man as they say, and up stepped Rishi Sunak with the furlough scheme. Most of us had never heard of either before they became headline news. Whatever your political persuasion, the UK Government needed to step in with a massive fiscal stimulus and they certainly did that. The darkest hour is often just before dawn, and after governments around the world pumped trillions into economies, there was a feeling of hope that the collective "we" would get through this – without quite knowing how.
In the UK, confidence returned to certain sectors and the markets started to recover with the predicted U-shaped recovery. Throughout 2020 there have been winners and losers and the recovery in shares was no exception. As holidays and flights were cancelled, and people stayed at home, travel, airline and oil stocks remained out of favour whereas technology soared as we all connected via Zoom, SKYPE and Teams. Only when society is confident enough to travel once more will these stock recover. Summer came and went as we all ate out to help out, in a vain attempt to support the hospitality sector. An inevitable second spike followed and we all shut down again. Groundhog Day. I personally found this the hardest of all, we seemed to be back where we started. What we needed was a way out, a vaccine, some light at the end of the proverbial tunnel. The rollercoaster ride, that 2020 had become, delivered. We were once again saved for a second time – markets jumped on the back of the news of several vaccines that would defeat the pandemic.
So how has the KDW investment process coped with 2020? KDW uses multi asset funds run by some of the best fund managers available. The fund managers seek out the best markets and opportunities on your behalf. Many had adopted a US bias to their funds and this strategy stood the funds in good stead compared to the UK stock market, as the US stock market is dominated by the big technology companies such as Google, Amazon, Apple, Tesla. Whereas the UK FTSE 100 is still sitting on a 12 month loss, most of the multi asset funds are sitting on a gain over the last 12 months. In March, if you'd given me the chance of a profit over 12 months to Christmas, I'd certainly have taken it.
Can we be more optimistic about 2021? I think we are all looking forward to Big Ben striking in the New Year. Whatever 2021 brings, it can't be worse than we have just been through, can it? There are some headwinds; Brexit isn't sorted; Covid-19 is still here and the vaccine will take time to deliver to a worldwide population. However, there is a feeling that we are at the beginning of the end and that, by Q2 or Q3 next year, we will all be living our lives once more, albeit in the new normal. Investment markets do not like uncertainty and many of 2020 uncertainties have been resolved during the year. We will know what is happening with Brexit – even if it's a no deal, at least fund managers can adapt portfolios. The US election has produced a US President that should provide more stability and predictability. The Fed in the US will continue to do the heavy lifting for the world with massive fiscal stimulus and, most importantly, there is a vaccine for Covid-19 being rolled out and other vaccines will only add to the solution. Society has successfully adapted to a new style of working and I doubt we will see full offices as flexi-working becomes the norm.
However, questions remain: how will we pay back the massive government debts without creating a recession; will economic reality match the market optimism; will the massive fiscal stimulus in all economies lead to inflation? On balance, I believe that the world economies are in a better place than they were through 2020. There will be further lockdowns, of that I have no doubt, however I suggest that 2021 will be a year when we see society coming to terms with the pandemic and finally starting to beat it. If this is correct, society and life will start returning to a new normal and the economic wheels will start to turn once more. But 2020 has taught us that it's not all about how much you've got, but about who you've got, a work life balance and what the human race is doing to the planet. Themes to look out for in 2021 will be Sustainable Investment funds and funds that invest in companies that have a Positive Impact on society. 2020 will be a year to remember, but we've come through it remarkably well, so let's put it behinds us and emerge into a kinder more caring society.
On behalf of the Team at KDW, we hope everyone has a Happy (never to be repeated 2020 style) Christmas and look forward to seeing you all in 2021.
Marcus Maisey
Back